Itazura Na Kiss New Live Action Adaptation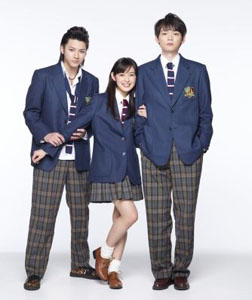 Another shoujo-romantic manga comes to life as Kaoru Tada's classic, Itazura Na Kiss, is announced to have a drama adaptation starting on March 29. The project will have a working title of Itazura Na Kiss ~Love in Tokyo~ and will star the newcomer model and actress Honoka Miki in her first lead role. She will star as Kotoko, opposite 25-year old Yuuki Furukawa who will play Naoki. Miki has just revealed she is a great fan of Tada's works, and owns all of the manga's volumes. Alongside them, Yuuki Yamada will also star in the series as Naoki's love rival, Kinnosuke Ikezawa. The series will run in 16 episodes.
The Itazura Na Kiss romantic comedy centers on a high school girl named Kotoko, who finally confesses to a fellow senior, Naoki, that she has loved him from afar since she saw him o the first day of their high school years. But this super-popular, rather haughty ikemen rejects her easily. But destiny seems to take a place with these two, as a mild earthquake has ruined Kotoko's family house; while it is in the process of getting rebuilt, she and her dad must stay at home of her father's childhood friend—Naoki's dad.
Itazura Na Kiss follows through Kotoko and Naoki's life in highschool and beyond, however; the manga remains unfinished as Tada sadly passed away in an accident in 1999. This didn't stop the rom-com novel to reach shoujo manga lovers, which more than 30 million copies in print. This theme was adapted into a television drama series in Japan back in 1996, two consecutive drama series in Taiwan and a drama series in South Korea. Alongside this, it also has a stage play and a 2008 television anime series.
Get to see a refreshing Japanese take on this story, coming to you this March 29.