Itazura Na Kiss ~Love In Tokyo~ Live Action Returns With Season 2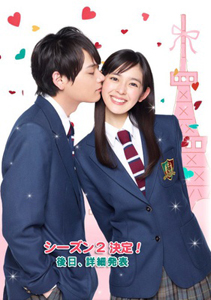 The hit 2013 live action adaptation for the world-renown manga Itazura Na Kiss will be returning with another dose of ~Love In Tokyo~ in their season 2. The official website has just announced that the television series has been granted with a new airing project and more details will be announced later. This is the show which launched two relevantly newcomers, Honoka Miki as Kotoko and Yuki Furukawa as Naoki.
While many have been skeptical by their fresh faces (and the almost-a-decade age gap between the two leads), many have received this show with warmth. The online websites Drama Fever and Hulu have aired the series in English sub as it is aired locally in Japan. Itazura Na Kiss ~Love In Tokyo~ is among the many versions of the popular manga, which had its own varieties. It was first made into a TV series back in 1996, but the story gained acknowledgement when it was adapted in a Taiwanese Drama, It Started With A Kiss. The 2005 hit series had another season, also notably popular. South Korea also made a live action adaptation of the series under the title "Playful Kiss." Along with its live action adaptations, this story has been made into an anime series as well as a stage play.
Naoki And Kotoko will return as the regularly bickering but sincerely loving married couple in Season 2. In season one, the younger, high school girl Kotoko confesses to a fellow schoolmate that she had loved him from afar ever since she saw him make his speech on their first day in high school. Unfortunately, Naoki is a cold, super-ikemen type that is perfect in every angle except being true to his feelings. He rejects her confession letter but strange things started happening that brought them together. Watch them back in action with a new series for their storyline!