Ikkyū-san Gets Second Live Action Special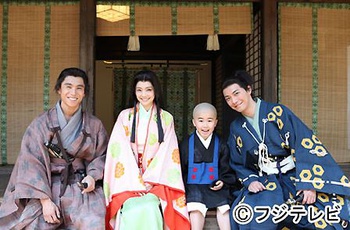 When one season isn't enough, it's time to give out a second helping. As recently revealed, the Japanese production giant Toei Animation's historical comedy anime series Ikkyū-san will be getting a second live action special on May. Ikkyū, the protagonist of this funny series, will be again played by the 8 year old Fuku Suzuki, whom we first saw at Kodomo Keisatsu and Humanoid Monster Bem. This reprise is scheduled to air on Fuji TV on May 5, perfect way to celebrate Children's Day in Japan.
Also back on their roles are Nana's Hiroki Narimiya as Ninakawa Shinemon, Narumi Yasuda as Iyono Tsubane and Noriyuki Higashiyama as the shogun Ashikaga Yoshimitsu. However, Ikkyū-san 2 is boasting of their new cast members, which includes Hana no Zubora-meshi's Kana Kurashina as Tsukihime. This new character is the woman whom Shinemon will fall in love with. Akiyoshi Nakao, who played Mitsuru in the drama Colorful, is a man bearing anxiety about the romance between him and his lady love of different social status. Adding to the already clever cast is Kiriko Isono, a leader of a traveling artist troupe, and Shota Akima, the shogun's arrogant relative.
You can remember Fuji TV airing a three-part live action special of Ikkyū-san starring Suzuki last June. The station has also created various drama adaptations of the title, including its 1975 to 1982 anime and the 1986 adaptation.
Ikkyū-san, a Toei original, is an anime which ran for seven years. The series was inspired from the life of Ikkyū Sojun, a true to life Buddhist monk who lived in the 15th century. The anime series loosely re-imagines Ikkyū's childhood as a smart but naughty monk trainee at the Ankokuji Temple. An anime shorts have featured Ikkyū and Shinemon time traveling to the modern Kyoto and visit the city's popular sites.