Ikkitousen To Be Adapted into a Stage Play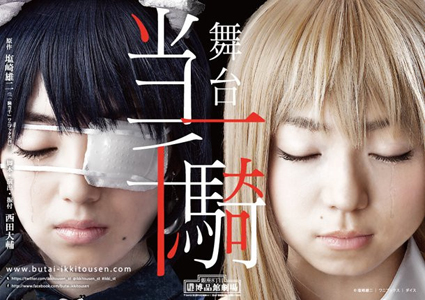 It has been announced that Ikkitousen, the popular action manga created by Yuji Shiozaki, will be adapted into a stage play. Literally translated as "Strength of a Thousand," Shiozaki's manga features beautiful heroines which are heavily geared up for fighting. The series focus on an all-out gang war within the Kanto District, Japan, where the fighters are known for their nicknames as toshi, meaning "fighting soldier."
The official website for this adaptation project had just revealed the cast in their full costume and make-up. Seven schools battle for supremacy in the region, and all institutions contain great heroes which will defend their school's name at any given battle.
The seven high schools that wages war against another is the Nanyo Academy, Kyosho Academy, Seito Academy, Yoshu Academy, Rakuyo High School, Gogun High School and Yoshu Private School. Hakufu Sonsaku, a lady fighter who had recently transferred to Nanyo Academy, finds herself in the middle of the war. Each of the fighters representing each school has a sacred jewel called magatama, containing the essence of the warriors from the 3 Kingdom Era of China, as well as their destinies.
Hakufu Sonsaku is actually the legendary conqueror Sun Ce, known for being a highly skilled warrior, only with a ditzy personality. Her destiny is to conquer all of the schools. However, there is a more dangerous side to her destiny, which may change history forever. Ikkitousen is based on the classic Chinese literature called Romance of the Three Kingdoms.
The manga started its serialization in the Comic GUM seinen manga in October 2000. The title has a total of 19 volumes and was licensed overseas as Battle Vixens.
The cast for the stage play adaptation includes Miyuu Sawai, Live Action Sailor Moon's title character and Shizuka Nakamura, from the Live Action QED. Daisuke Nishida of Sengoku Basara will be writing and directing the play, which runs for a total of 13 performances from November 30 to December 9. This will be held on Tokyo Ginza's Hakuhintan Theater.