Hitsuzen PV Released for CLAMP's xxxHOLiC Live Action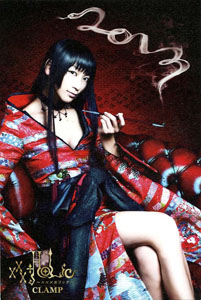 Termed as "inevitable," Japan's WOWOW premium television channel had began streaming a promotional video for the upcoming launch of the CLAMP live action television adaptation, xxxHOLiC. As announced, the international station will release this series, inspired by the popular manga creators' concept. Model and actress Anne will take the lead role of Yuuko Ichihara, and she introduces the series by discussing the manga, the fidelity to the story, and lastly, to encourage the people to watch the show.
xxxHOLiC follows the story of Yuuko, a witch who has the ability to grant people's wishes. However, the person has to give up something precious in return, more like a payment to the wish they make. Kimihiro Watanuki, a high school boy who has the ability to see Ayakashi (spirits), encounters Yuuko. He has a high disregard in his ability, as this young boy is more of a coward; he asks Yuuko to take away this skill. Yuuko promises to get rid of the spirits, but as payment, he must work in her shop and help granting other people's wishes—which is most often, the dangerous and wistful kind.
Alongside Anne, Shota Sometani will play Watanuki. Other actors include Masahiro Higashide, Karen Miyazaki, and Naoko Takenaka. Additionally, Yumi Adachi will play the character Shizuka Domeki and Himawari Kunogi will play the role of an ayakashi in the form of a doctor, and a mythological creature called Jorogumo.
The official website for the xxxHOLiC live action have stated that the singer chay will perform the ending theme song, "You tell me." alongside this, they have also opened introduction to other upcoming projects including the xxxHOLiC: Rei Manga. This is a new art book reprint of the NisiOisin xxxHOLiC novel.
The live action will run on eight episodes and will premiere on WOWOW Premium Channel on February 24. It will run every Sunday at 11:00 PM. The original manga was featured in Kodansha's Young Magazine and Bessatsu Shounen Magazine and ran from 2003 to 2011. Its compiled volumes have 12 million copies in print. The story will progress with xxxHOLiC: Rei, a plot which has been delayed from February till early March.