More Details on New Hayao Miyazaki Film Revealed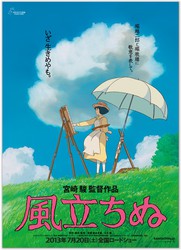 Studio Ghibli has released an ad preview for the new Hayao Miyazaki film, Kaze Ga Tachiru (The Wind Rises). Details for the upcoming project have been revealed, including the theme song Hikouki Gumo (Airplane Cloud) which is contributed by Yumi Matsutoya. Matsutoya has composed the song when she was 16 years old.
The service provider au has also revealed that they will be collaborating with this new project. Two ads have streamed with their brand included, which depicts Evangelion director Hideaki Anno as Horikishi in front of the mic. The other ad shows Anno receiving a text message. These ads both say "au supports The Wind Rises" and "au loves Ghibli." The trailer runs in 30 seconds and is shown in local theaters.
Anno will be playing the main character Horikoshi. Revealed below are his co-star members.
Miori Takimoto of Ikemen Desu! and GTO 2013 plays Naoto Satomi.

Hidetoshi Nishijima plays Honjo

Masahiko Nishimura as Kurokawa

Steve Alpert as Kastrup

Morio Kazama as Satomi

Keiki Takeshit as Jiro's mom

Mirai Jita as Kayo Horikoshi
Jun Kunimura plays Hattori

Shinobu Ootake as the wife of Kurokawa

Mansai Nomura as Caproni

Kaze Tachiru was launched by Miyazaki in February 2009 as a two-part manga series. The story focuses on the main character, Jiro Horikoshi. Horikoshi is the designer of the A6M Zero fighter plane of Japan's famous car brand, Mitsubisi. This fighter plane was used by the country to sustain them in the middle of the World War II.
Author Tatsuo Hori has also written a novel of the same name, which the film's tagline on the poster referencing the characters and the stories in Hori's book. TOHO is planning to release another film from Ghibli on the same day as The Wind Rises but has chosen to delay it until this year's fall. The scheduled date for Miyazaki's film is on July 20.