Haori Takahashi Stars in Live Action Dolly Kanon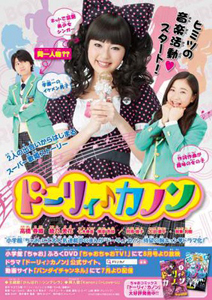 What happens when a popular singing idol, known for her beauty and talent, is actually a boy? A whole new world of a gender-bender comedy series is about to come your way this new season, and Asgard will give you the insider tips and hints on new shows to catch!
Shoujo manga lovers will be delighted to know that Yu Yabuchi's idol manga Dolly Kanon is slated for a live actions series to debut this summer. The July issue of the Shogakukan Ciao magazine has announced that the 16-year old actress Haori Takahashi, known for her role in Perfect Blue, will play the roles of Soshi Okuda and Kanon. She will be taking a male character that plays a girl in the series. 2011 Miss Magazine Semi Grand Prix winner Mika Ayano will be the heroine Kokone Shishido, and the real-like Kanon Nanaki will play the established female idol Remi.
The story follows the life of Soshi Okuda, an ordinary middle school boy who had a strange flair; he loves wearing a girl's clothing and singing. The resulting video was sneakily uploaded into the internet, and there it was—a great hit! Soshi finds himself in a new character, in a new life, as he becomes Kanon, a popular bishoujo super idol loved by her charms and her voice.
Yabuuchi launched the original manga in the Ciao magazine in 2012. Shogakukan published the 2nd compiled volume in April. Her other works Mizuiro Jidai and Naisho no Tsubomi has inspired anime series. Yuki Saito will take on this title as his first live action series. Saito is known to have studied filmmaking in the US and made his film debut in the 2010 Re:Play Girls. The live action series will also take the original songs from the manga and add melodies to the lyrics.
The live-action series will have 7 episodes and a spin-off episode.