Hanasaku Iroha TV Commercial Streamed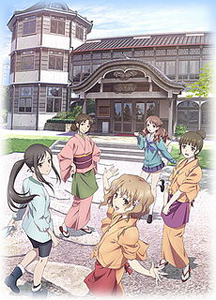 Pony Canyon, a Japanese production company, has recently began streaming a television teaser for the anime movie project Hanasaku Iroha: Home Sweet Home on Saturday. The ad features the mainstay characters of Hanasaku Iroha along with the theme song by nano.RIPE, Kage Fumi (Steps on Shadow). nano.RIPE is known to have performed the theme songs for the original television version of the Hanasaku Iroha.
Hanasaku Iroha, literally translated as as the "Colors of Blooming," is a television anime series produced by PA Works. The project was directed by Masahiro Ando and ran for 26 episodes. Mari Okada created the screenplay, while the original character designs were created by Mel Kishida. This anime series was produced in the celebration of PA Works' 10th anniversary work. Hanasaku Iroha ran between April – September 2011.
The story centers around Ohana Matsumae, a 16-year old girl living in Tokyo. She is left in the care of her estranged grandmother, after her mother eloped with a boyfriend. Ohana arrives at her grandmother's place, a large country estate. She realizes that her family owns the Taisho period hot spring inn, Kissuiso. She begins working at her grandmother's request, but she struggles with the customers and the employees at the inn.
She starts feeling dismayed, but choosing to see her circumstances as a prospect for her to change herself and make peace with the staff for a better working relationship in the future.
The film boasts of a brand new story and will be featured in four theaters in Ishikawa Prefecture before its nationwide opening on March 30.
Alongside streaming the new video, the official website for the anime has revealed that the production will offer free gifts to the first individuals who will see the film, as long as supplies last. Those who will buy a ticket in advance will receive an exclusive 5 postcard set, featuring characters from the film. More details will be announced in the official site, so stay tuned, and you may get yourself an awesome Hanasaku Iroha freebie!