Gentlemen's Alliance Cross Arina Tanemura Debuts New Manga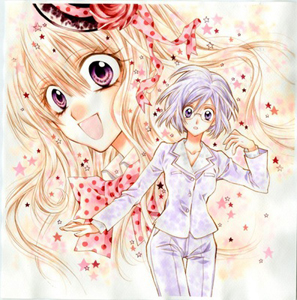 We know her as the maker of the Sakura Hime Kaiden, Full Moon Wo Sagashite, Neko to Watashi no Kinyoubi, and other shoujo stories released with a tinge of a magical plot. Now, Arina Tanemura will be launching a new title under her pen, as revealed by the April issue of the Hakunsensha's Melody magazine. The magazine has announced on Thursday that Tanemura will release her new 31 Ai Dream (can be written as 31 I Dream or 31 Eye Dream) manga series in the next issue, arriving on April 27.
This new romantic series will focus on the adult Chikage, a 31-year old woman who is described in her queer eyeglasses. It must be noted that Tanemura's previous works mostly centered on young girls and teenagers, but not she is taking a new level with a new inspiration. This rare manga from her tells a story about a middle aged woman.
The first chapter of 31 Ai Dream will be released in a bundle, separately bound with the Melody's June issue. The future issues will be in the actual magazine's pages. Currently, the magazine has a bonus supplemental issue named as "Itadakimasu," a booklet with a one-page manga that Tanemura drew about bread.
Tanemura is known for creating shoujo mangas, including Gentlemen's Alliance Cross. In this plot, Haine Otomiya is a young girl who studies at the elite Imperial Academy. However, she was sold to the Otomiya by her own father, Kasuhito Kamiya for 50 million yen. She was disoriented with her place in life and became a wild, gang member, until she meets Shizumasa Tougu, who guided her in life. She recognizes him as the author of a storybook whom she loved dearly, and the girl fell for him. strange incidents led her in uncovering mysteries which tangles him and his twin brother, as Shizumasa slowly falls in love for her as well.