Love★Com Creator Returns with Dame na Watashi ga Koi Shite Kudasai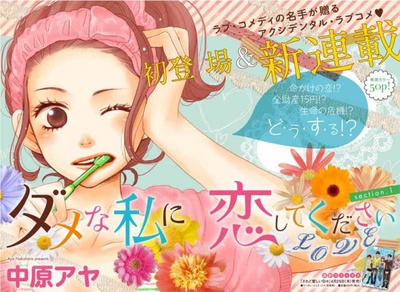 Another shoujo romantic comedy is on a roll—but this time, the girl is a little bit older. Like in her mid year! The May issue of Shuesha's Monthly YOU publication has began serializing Love★Com's Aya Nakahara's new creation. The manga series, dubbed as Dame na Watashi Ga Koi Shite Kudasai (だめな私が恋してください、Please Love the Good-For-Nothing Me) is a love comedy that revolves around the life of a woman named Michiko.
Aging around 30 years old, Michiko has spent her life in a rough patch. She had just broken up with a younger boyfriend whom she has financially supported until all her savings were swept to the last drop. In her quest for a new revving up, she meets a former boss whom she used to strongly dislike.
Aya Nakahara was first known for her manga, Love★Com, short for Lovely Complex. This is another romantic comedy shojo work which was published in Bessatsu Margaret from 2001 to 2006. Lovely Complex is a series about a girl with a tall height and a short boy, who is most of the time, treated as a comedy duo in their class. This won her a Shogakukan Manga Award for Shoujo category in 2004.
The manga was published by Viz Media and has been released with 17 volumes in North America. The same company has released the manga's live action film adaptation on a DVD showcase. The story also had its own anime series in 2007, and Discotek Media will be releasing the adaptation in North America by July.
Nakahara was also known in her other manga series; her latest was Junjo Drop which she began in 2011. Shueisha has released the one-compiled volume of the series in April 2012.