Daily Lives of High School Boys Releases First Trailer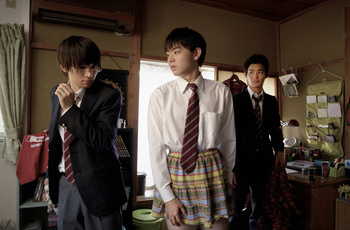 There's always fun when you're in high school, and for a group of lads studying in an all-boys school, fun is just an understatement. The Japanese film website Eiga.com has begun streaming the first trailer for the gag comedy manga Danshi Kokosei no Nichijo (Daily Lives of High School Boys) recently. Featuring the theme song "Maji Kansha" from Team Shachihoko, one can take a glimpse of what fun these high school boys have in and out of the class.
Danshi Kokosei no Nichijo tells the story of the humorous but realistic everyday life of the students at a high school. Tadakuni, Hidenori and Yoshitake are the three prominent characters in the story. Masaki Suda will star in the film as Tadakuna. Masaki has already played roles in Nakuna Hara-chan, High School Debut and Kamen Rider W. Alongside him is Shuuhei Nomura as Yoshitake and Ryou Yoshizawa as Hidenori.
The film tells of a school festival, jointly organized by Tadakuni Yoshitake, and Hidanori, as well as their all-boys school and an all-girls school. A new character Saino, played by Rui Kurihara, will appear in the film. This character is made originally for the project and cannot be found in the manga. The actresses playing the parts of those who are studying in the all-girls school are Anri Okamoto, Mizuki Yamamoto and Mio Uema. Supporting roles will be played by the cast members Eita Okuno, Yui Koike, Sara Takatsuki and Kumiko Shiratori.
Daigo Matsui, who recently directed Afro Tanaka, will be directing the film. The manga, written by Yamauchi, was launched in 2009. Square Enix has released the 7th compiled volume of the series in December. The manga has already inspired a 12-episode TV anime in 2012. NIS America will be releasing the series on North America this August.
Danshi Kokosei no Nichijo will open in October 12.