Captain Harlock Set for CG Remake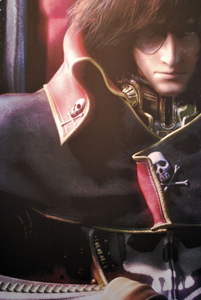 It has been announced that the Space Pirate Captain Harlock キャプテン・ハーロック, along with his crew, will be relived into a 3D animation for a CG remake. The project is hosted by Toei and casts two of the nation's popular actors, Shun Oguri and Haruma Miura. Oguri will play the role of Captain Harlock, while Miura takes on his first voice acting role. His character, Yama, will be solely created for the film. Yama is a young man who penetrates into the Arcadia with a plot to kill Captain Harlock.
Alongside Oguri and Miura are the voice actors who will play the role of Arcadia's crew members. This includes Yuu Aoi, Ayano Fukuda, Arata Furuta, Maaya Sakamoto, Toshiyuki Morikawa, Kiyoshi Kobayashi, Miyuki Sawashiro and Chikao Ohtsuka.
Captain Harlock and the Arcadia are all parts of the 1977-79 manga by Leiji Matsumoto. This original work contains the story of rebel characters fighting against the earth's unsound government. The space battleship Arcadia seeks justice for humanity, being led by the romantic hero Captain Harlock and his crew of 40 people. The manga has spawned various projects such as a television anime series, and a sequel Arcadia of My Youth: Endless Orbit SSX.
An individualist, Harlock is a noble, intelligent and a rebellious hero going against totalitarian regimes no matter if they come from the earth or the other parts of the space. His character is introduced in the manga Adventures of A Honeybee, but he is only launched in the lead role at the release of the Space Pirate Captain Harlock series.
Harutoshi Fukui rewrites the story to be able to reflect the themes of modern society, and Shinji Aramaki directs the project with the latest film making technology ala Hollywood Production. This film is said to have Toei Animation's highest production budget, equaling to US$ 30M. Get a glimpse of what's in store for you in this space adventure, led by this 3D hero: