Buffalo Gonin Musume Plot Featured in Koda Kumi's PV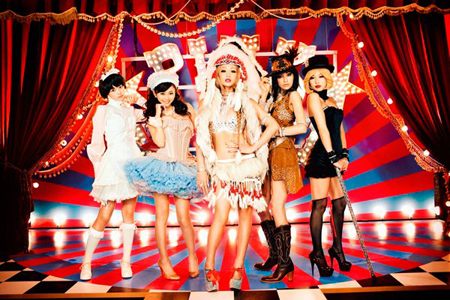 A popular, yet unfinished manga, is relived into another perspective, this time, in 3D form. Moyoco Anno, known for her works Sakuran, Sugar Sugar Rune and Hataraki Man, has her yet-to-be-finished manga Buffalo Gonin Musume (Five Daughters of Buffalo), into a live action adaptation. And Japanese pop music lovers, rejoice! For this series will be adapted into a music video of one of the queens of JPOP, Kumi Koda!
The live action adaptation has inspired a music video which will be directed by Mika Ninagawa, known for her contribution in Sakuran and Helter Skelter live action films. The video will feature the song Pink Spider, a cover by Koda Kumi. As JROCK fans may know, this song was originally by hide with Spread Beaver released in 1998.
Of course, Kumi Koda wouldn't miss being in the video herself, and she will play the character Candy in this PV. Rina Ohta will have the role of Susie, Anri Sugihara as Dalia, Ellie from the group Chim Pom as Ruby, and Tina Tamashiro as Coco. The five rounds out the main daughters. Juntaro Yanagi, Ryo Kitamura, Takumi Saito and Susumu Terajima completes the whole scene.
The Buffalo Gonin Musume manga began serialization in the Takarajimasha's CUTiE Comic fashion magazine in 1999. It revolves around the lives of five women living in the West America, during the westward expansion of the nation. Cindy and Susie escaped their brothel and have encountered the rest of the girls during their travel.
Anno has published an omnibus edition of this story featured in the Shodensha's Feel Young magazine in 2002. Inspired by this recollection, the Buffalo Gonin Musume manga will have its first compiled book to be published on January 8, 2013.
Kumi Koda's Pink Spider Music Video will debut this winter on the UULA Smart Phone service. An all color movie comic will also be released by the company, which includes voice acting and special effects. Kumi Koda's album which includes this track will be available for shipping this February 2013.