Ballroom Dancing Themed Manga Launching in Kodansha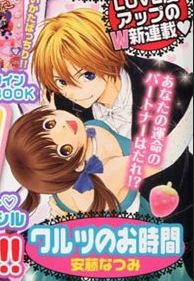 2013 gears up for the arrival of new series, not only hitting television screen but manga pages as well. There is a new series in Kodansha's Nakayoshi Magazine, and it centers on something surprisingly different—ballroom dancing! The February issue of the Nakayoshi Shoujo manga anthology has began the serialization of Natsumi Ando's newest title, Waltz no Ojikan (trans., Waltz of Time).
The new manga revolves around a boy who used to love ballroom dancing, but has lost interest in it for a particular reason. Instead of tapping his feet on the classical tunes, he has been distracted by the latest dancing trend which currently occupied his passion. However, he meets a simple, plain girl who has a secret desire to change herself. The two were fated in this encounter and to grow into adulthood together through ballroom dancing.
Natsumi Ando had recently ended her shoujo mystery manga Arisa in the Nakayoshi magazine in August 2012. The plot revolves around Tsubasa, a girl who disguises herself as her twin sister Arisa, who seems perfect in everything she does. Arisa's suicide attempt led Tsubasa in this disguise, uncovering the secret to what made her sister do so. Ando has launched the manga in December 2008, which was licensed in the US by Del Rey. Kodansha USA took over this title along with other mangas in 2010, and has published the 9th of the 12 volumes of this title in October.
This same issue of Nakayoshi magazine has launched Pedoro Toriumi's Hyakki Koiran ~Amai Akuma ga Warau~ (The Love War of One Hundred Demons) manga. This fantasy love story focuses on a girl who can see demons. One day, she encounters a pair of brothers, one is a wild older brother, and the other is a cool younger brother. The two are actually handsome demons, and they are involved in a mysterious accident.
Watch out for Waltz no Ojikan manga this 2013!