Aura: Maryūinkōga Saigo no Tatakai Theatrical Anime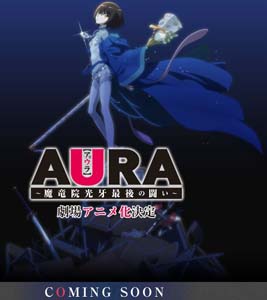 As revealed by the Japanese publisher shogakukan in its website for the Shounen Sunday Super magazine, a theatrical animation project for Romeo Tanaka's light novel, Aura: Maryūinkōga Saigo no Tatakai will be launched next year. the title has been launched in 2008 and revolves around a high school freshman, Ichirou "Menzu" Satou. He forgets his textbook that he sneaks back into the school during the night, and there he encounters a beautiful girl. Surprisingly, the girl presents herself as a witch that comes from a parallel world.
Ichirou used to suffer delusions like this, but he promised to himself that he should stop, in order to become a successful freshman in high school. The manga adaptation of this novel will be starred in Shonen Sunday Super in the April issue, about to ship in February.
Meanwhile, the official website for the film adaptation of the novel has announced the leading cast. Ichirou Satou will be played by Nobunaga Shimizaki, who played the role of Kaito in Waiting in the Summer and Orobas I Sakugan no Shana III. Kana Hanazawa of Kobato and Oreimo's Kuroneko, will play Ryokou Satou.
Persona 4's Seiji Kishi will be leading the project as he directs the animation at the AIC ASTA. Makoto Uezu, whose works has been seen in School Days, My Bride is a Mermaid and Is this a Zombie will be collaborating on the story composition with the scriptwriter, Jun Kumagai. Kazuaki Morita of Kamisama Dolls and Carnival Phantasm will be adapting the original novel illustrations, done by mebae.
Romeo Tanaka, maker of Aura: Maryūinkōga Saigo no Tatakai, is a free artist and scenario writer known for his contribution in bishoujo games. He is known for his work Jinrui wa Suitaishimashita, along with his contribution for the Cross Channel and Yume Miru Kusuri. Tanaka also co-authored the scenario for Key's game, Rewrite. Aura: Maryūinkōga Saigo no Tatakai focuses on a comedic theme, which fans will look forward to a droll encounter with the characters.