Arisa Manga To Be Concluded This September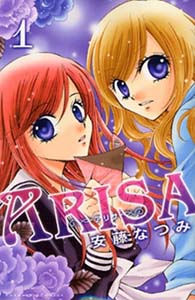 Mangaka Natsumi Ando has announced that she will be ending her shoujo manga Arisa in the September Issue of the Kodansha's Nakayoshi magazine. Ando has launched this manga in Nakayoshi in December 2008, to which Kodansha has published the 10th book volume of the title past April. North America distribution was led by Del Rey, but Kodansha USA took over the title along with other Del Ray publications in 2010. Kodansha USA will be releasing the 9th volume of this manga this November.
The story revolves around the lives of Sonoda Arisa and Uehara Tsubasa, twin sisters which are separated by their parent's divorce. They promised to send letters to keep in touch, and they met for the first time in three years. Arisa is a sweet girl and is loved by everyone, while Tsubasa is referred to as the school's Demon Princess. Even though envious, Tsubasa is proud of her sister's feat, to which Arisa suggests that they switch for a day.
However, little do Tsubasa knows that Arisa's class, 2B, holds a great secret against her sister, which led to a suicide attempt by Arisa by jumping out of the window. As Arisa sleeps into comatose, Tsubasa poses as her and delves to find out what made her sister do such thing.
Tsubasa, taking Arisa's image and name, discovers that class 2B sends wishes on their mobile phones to a mysterious person only known by a nickname, KING, every Friday. The KING grants one wish per week, which results to frequent violent commotions. Tsubasa tries to stop the KING by finding out who he really is, in order to save Arisa. In her quest, she realizes he may be the reason of her attempted suicide.
Arisa has often appeared on The New York Times best seller lists for manga, and the American Library Association's Young Adults Library Services Association has named the Arisa 1st volume as one of the "Great Graphic Novels for Teens" in 2011.