Bokura Ga Ita Author Releases New Series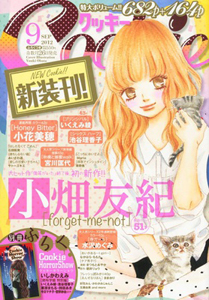 Bokura Ga Ita (We Were There) mangaka Yuuki Obata is set off to launching a new manga series titled Forget-Me-Not this September issue of the Shueisha Cookie magazine. On Thursday, a publication announced of this new series in the works, which follows a very sensitive plot about a young girl and the life of being bullied. In the plot, the girl was pushed about on too much depression that she was on the verge of committing suicide. Luckily, she survives this attempt. This starts her new journey towards facing life.
Obata's previous creation, We Were There, was a hit manga which inspired a television anime series created by the studio Artland in 2006. The story follows two high school students who fell in love with each other. The shoujo romance has also been adapted into movie played by popular actress Yoshitaka Yuriko and Ikuta Toma.
Forget-me-not is Obata's newest addition to her novels, after ending We Were There in the Monthly Betsucomi Magazine by Shogakukan this February. Cookie Magazine has initially advertised this new project as a one-shot manga plot. However the September issue of the publication has revealed the first installment which confirms it to be an ongoing series. An online sampling of the first chapter is available for viewing on their website.
In the story, Umeno Shinozaki is a high school freshman who experiences harsh bullying. She tries to escape this cruelty by jumping from a bridge into a river to take her life. However, she barely survives and ends up being confined in a hospital. Her despondency soon decreased as she connects with other young patients at the ward, slowly helping her to gain confidence and courage to trudge in life again.
This new series is made to tackle realistic issues that deal with young life. There are many people around the world that experiences bullying, which results to emotional struggles. Obata is known for creating high school shoujo plots with true to life narratives, which makes the stories relatable and refreshing.