Yowamushi Pedal Encourages You To Drink Up With Pocari Sweat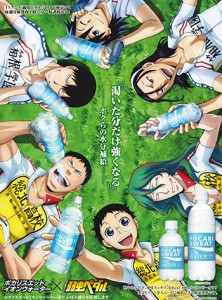 The more you get thirsty, the more you get strong. This is how we quench our thirst!
Wataru Watanabe's (渡辺 航) cycling-themed manga/anime franchise, Yowamushi Pedal (弱虫ペダル), has teamed up with Japanese sports drink Pocari Sweat (ポカリスエット) for a tie-in promotion for this month.
Posters bearing the six main cyclists of YowaPeda holding a bottle of Pocari Sweat in their hands, namely Sakamichi Onoda (小野田 坂道), Makishima Yusuke (巻島 裕介), Tadokoro Jin (田所 迅), Manami Sangaku (真波 山岳), Toudou Jinpachi (東堂 尽八), and Arakita Yasutomo (荒北 靖友), will be appearing in various train stations in Japan as well as insides of the Seibu Line and Izu Hakone Line trains. The YowaPeda-Pocari Sweat partnership was first announced on the official YowaPeda TV anime website.
Yowamushi Pedal first appeared as a manga on February 2008 and is still an ongoing series. The story cirlces on Sakamichi Onoda, a high school freshman who was labeled as a true blue otaku. Since his childhood, Onoda's choice of transportation is the mamachari. His talent for biking was first noticed by his fellow freshman Shunsuke Imaizumi (今泉 俊輔) who saw Onoda riding his bike in a steep road. Later on, another freshman who goes by the name of Shokichi Naruko (鳴子 章吉) meets Onoda. Not long after, both Naruko and Imaizumi try to convince Onoda to try out for the bicycle racing club and the rest, as they say, is history.
Itching to ride your bike? Don't forget to grab a bottle of Pocari Sweat on your way out!