Yahari Ore no Seishun Love Come wa Machigatteiru Anime Confirmed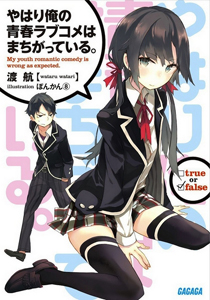 After the long anticipation for the assumed adaptation of Wataru Watari's comedy light novel, Japanese publishing company Shogagukan has formally confirmed the progress of the television animation series for Yahari Ore no Seishun Love Come wa Machigatteiru (My Youth Romantic Comedy is Wrong as I Expected). As indicated from the flyer for the GAGAGA Bunko Maggazine, the title is receiving its own series, which is currently in the works.
Fans of the manga has long assumed of the anime preparation, to which now concludes the coming of the said title. The speculation started from the Shogagukan-Shueisha prints, which fueled the anticipation from the series. The title, which is associated with Yomi Hirasaka's Boku Wa Tomodachi Ga Sukunai, trails after another oxymoronic idea of a group of isolated loners, who aren't bent to make anything great, even for romance.
Yahari Ore no Seishun Love Come wa Machigatteiru tells about the story of an anti-social high school boy, Hikigaya Hachiman, who dislikes to make friends with anyone. His teacher, Hiratsuka Shizuka, became so much concerned with his character that he forced the student to volunteer in a service club, where he encounters Yukinoshita Yukino—the school's most popular, most beautiful girl.
During this meeting, Hikigaya soon found himself captured with Yukino's charms, and tried to do anything that will help him win her affection. Unfortunately, being a loner has a lot of drawbacks, and this he realizes as he tries to pursue Yukino with his love.
According to Wataru Watari, Yahari Ore no Seishun Love Come wa Machigatteiru can also be abbreviated as OreGal or Hamachi. How it comes to be so, he has yet to explain. Those who loved high school romance animations will definitely like this. For the meantime, stay tuned for more updates about this anime and the newest titles here at Asgard!