WOWOW Unveils First xxxHOLiC Live Action Press Image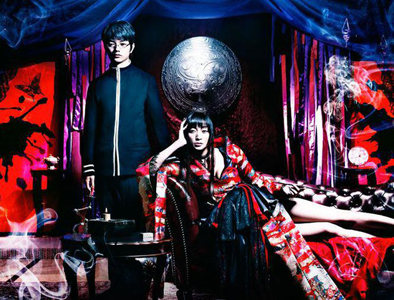 The Japanese cable channel WOWOW had recently updated its official website, featuring images for the upcoming live action adaptation of CLAMP's xxxHOLiC (×××ホリック Horikku). The press image features the two main leads in their full costume for the show. Actress and model Anne will play the lead role of Yuuko from this manga-based adaptation, while Shota Sometani will play the role of Watanuki. Alongside them are Masahiro Higashide, Karen Miyazaki, Naoto Takenaka and Yumi Adachi, also part of the show.
xxxHOLiC will be directed by Keisuku Toyoshima, with the scripts written by Jun Tsugita. The manga, pronounced as "holic" is a Seinen manga created by the popular group of authors, collectively known as CLAMP. This series is tied with another of the group's popular stories, a cross-over adventure of Tsubasa: Reservoir Chronicle.
Originally, xxxHOLiC tells the story of Kimihiro Watanuki, a young high-school student who is greatly disturbed by his eerie talent to see the supernatural. He then meets Yuuko Ichihara, a witch who owns a wish granting shop. Watanuki asks Yuuko to have his talent removed, as various spirits torment him. as a payment, he must work for Yuuko in her shop, resulting in more spiritual encounters.
CLAMP had the idea for this plot when they wanted to make a special series which they can associate with the other themes they have made. The manga was first serialized in Kodansha's Young Magazine from 2003 to 2010. It then transferred to Bessatsu Shonen magazine, where it ends it serialization in 2011. The manga is published in tankobon under the label KC Deluxe, wherein a total of 19 volumes has been released.
Del Ray Manga published this story in the US and Tanoshimi in UK. Production IG has adapted the manga into an animated movie, followed by 2 anime television series and OVAs. A light novel and a video game has also been inspired by this series.
WOWOW's live action adaptation of xxxHOLiC will premiere on February 24 and spans upto 8 episodes.