Walt Disney To Release Studio Ghibli's Arrietty Within 1,200 Screens In The US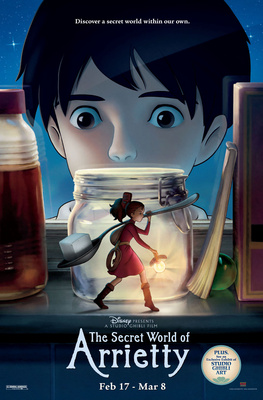 Walt Disney Pictures is said to be releasing the Secret World of Arriety within US, hitting 1,200 screens on the February 17th. This is the most prominent US release of a Ghibli Studio creation to date, as reported by the Wall Street Journal financial newspaper. Co-executive producers Frank Marshall and Kathleen Kennedy of the American Dub told the Wall Street Journal financial that the film's marketing will be widespread, as they will plan to take in the fans of the classic bestseller The Borrowers (1952) by Mary Norton, to which the animation was based in.
Marshall and Kennedy were also the same producers of the American Dub Ghibli Animation Ponyo, which appeared in 927 screens and topped $15.1 Million back in 2009. Other Ghibli films were also highlighted in the big screen yet did not produce much impact within their respective airing. Howl's Moving Castle opened in 202 screens in 2005, producing only $4.7 Million while Spirited Away opened in 26 screens back in 2002, resulting to $10 Million as its gross value. Princess Mononoke, which is the first of the films Walt Disney has released from Studio Ghibli, appeared in only 8 theaters and produced only $2.4 Million.
The Secret World of Arrietty, also known in Japan as the Borrower Arriety, is an animation adapted from Mary Norton's the Borrowers. It was directed by Hiromasa Yonebayashi and was written by the renown children's animation producer/ writer Hayao Miyazaki. Arietty is a young Borrower, living beneath the floorboards of a common home. She befriends Sho, a human whose greatly troubled with his failing heart condition. Sho lives with his great aunt named Sadako and their maid Haru, who soon grew a curious suspicion about other secret dwellers within their home. Arrietty and her family faces much trouble as they are tangled by Sho's friendship, and their desire to remain undetected by unknowing humans. The Secret World of Arrietty first opened in Japan in July 2010.