Wake Up, Girls! Characters Revealed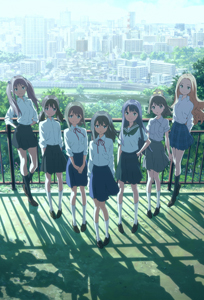 The cast for this upcoming anime from director Yutaka Yamamoto was disclosed at an event at Wonder Festival this summer. The anime trails after the journey of aspiring idols coming from Japan's earthquake-hit Tohoku region. This will air on television and even be screened in theaters early next year.
While we previously had a glimpse of the seven girls (and their backs) in this post, we now see their faces and their details! Check out who's going to be the girl you can closely relate to:
Mayu Shimada is a 15 year old girl who is unrivaled in her singing and dancing abilities.
Airi Hayashida is a 15 year old girl who is not so much talented, but has a lot of motivation.
Minami Katayama is 14 years old and is considered the little sister of the group.
Yoshino Nanase is 16 years old who is quite experienced in the idol business, being an actor and a model.
Nanami Hisami is the youngest of the group, but is very prideful. She has been trained to sing and dance since she was very young.
Kaya Kikuma is an 18 year old girl who is the center of the group's appeal.
Miyu Okamoto is a 17 year old girl who is prone to crying. This otaku works as a part time employee at a maid café.
Additional characters include Koheu Matsuda, the manager of Green Entertainment, and Junko Tange, the president of the company.
Wake Up, Girls! Is a story about seven girls who aspire to be stars in the period of "idol sengoku jidai." Green Leaves Entertainment, a Sendai based production, is on the verge of going out of business. In the danger of having zero talent, President Tange develops an idea of creating an idol group. Manager Matsuda is ordered to scout raw talents, and this is what he's found!