Wake Up, Girls! Anime Reveals Key Visual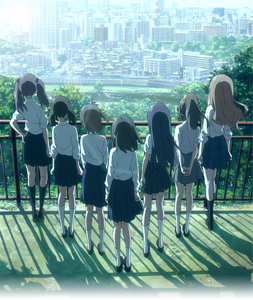 The official website for the upcoming anime Wake Up, Girls! just opened on Monday. It also reveals the project story and releases the first piece of its key visuals. The story will be set on a warring period called idol sengoku jidai, and trails after the lives of the seven girls who pursues their dreams in spite of this chaotic time.
In the story, Green Leaves Entertainment is a tiny production business who is on the verge of being bankrupt. It is located in Sendai, the biggest city in Japan's Tohoku region. The agency had once managed a league of magicians, photo models, fortune tellers and other entertainers. However, its final client quits, and being in danger of having zero talent, company president Tange conceived the idea of making an idol group. On this swift concept, the grumpy and dissatisfied manager Matsuda was ordered out to scout raw talent. It was on this journey that he encounters a certain girl, which is said, by fate.
Yutaka Yamamoto will direct the animation and is collaborating with scriptwriter Touko Machida and composer Satory Kousaki. Avex and the voice talent agency 81 Produce has held open auditions, with over 2,000 female candidates last fall. The winners will not only be featured as the main characters of the new anime, but will also sing the project's theme song
An event called Wonder Festival will host a celebration to unveil the audition winners on July 28. The staff Yamamoto, Machida and Kousaki will appear in this event along with Emiri Katou as the emcee.
It has to be noted that the anime's setting of Tohoku is the area that was heavily affected by the March 11 earthquake back in 2011. Yamamoto has been visiting the region quite frequently, specifically the much damaged hometown of Eri Takehashi, the creator of the manga Kannagi. He already produced Blossom, a charity anime created especially for the region.