Uchoten Kazoku Manga Animated by PA Works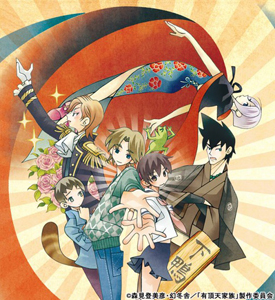 Featuring an out-of-this-world family, a new anime will arrive in your screens very, very soon! The official website for Uchoten Kazoku had recently revealed a promotional teaser, done by the studio PA Works. The teaser provides an interesting setting of the comedy drama series, which is located in Kyoto. There, humans live with the tanuki (shape shifting raccoon dogs, a part of the Japanese myths) and the tengu (long nosed goblins of the local frightening folklore). Yasaburo, belonging to the Shimogamo family of the tanuki, is a happy go lucky lad who lives for whatever he wants at the moment.
The anime is set to be launched in July, where PA Works is adapting a novel by Tomihiko Morimi, author of Yojo-han Shinwa Taikei (The Tatami Galaxy). This literary masterpiece inspired a television anime in 2010. Koji Kumeta, who has lent his hands in Joshiraku and Sayonarra, Zatsubou-Sensei, will be providing the original character designs. This is his first time to do a task that is not based on one of his own creations.
Takahiro Sakurai will play the role of Yasaburo, the third oldest son of the Shimogamo family. He sometimes takes the form of a high school girl. Junichi Suwabe will be playing the role of Yaichiro, the oldest son who is always sincere but quite weak-willed. Hiroyuki Yoshino plays Yajiro, the second oldest son who enjoys the shape of a frog and goes off into a lonely trip by the well. Mai Nakahara will play Yashiro, the timid youngest son. Kikuko Inoue will play the role of their mother, who is a great fan of an all-girl theater group Takarasuka. Mamiko Naoto will be Benten, a beautifully bewritching girl, who rounds up the cast.
Masayuki Yoshihara will debut in this television series as a director. Shotaro Suga will be in charge of the scripts and Kousuke Kawazura will adapt the original designs for animation. Yoshiaki Fujisawa will score the music. Get a glimpse of Uchoten Kazoku here by watching their teaser: