TV Asahi Streams Teaser From the New World Novel Adaptation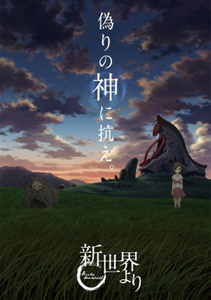 Local Japanese Television Network TV Asahi started streaming the prelude teaser for the anime series adaptation of the novel From the New World by Yusuke Kishi. This trailer features the breathtaking art and production, along with the comments from the producer Yutaka Oomatsu (Night Raid 1931, Blood+) and series composition director Masashi Sogo (Gantz, Bleach). The scenario and the themes are outlined by no other than the writer himself, Yusuke Kishi, and also stated his thoughts about the adaptation. Other known collaborators are Masashi Ishihama (Read or Die), who will make his debut as an anime director.
The plot, set in Japan a thousand years from present, is about the journey of the five children who aims to find the truth behind their world. Saki, the main protagonist, along with Satoru, Mamoru, Maria and Shun, have been born and nurtured in a peace-loving town; a paradisiacal utopia where the forests are lush and green, and the scenery so breathtaking. However, their current world is ruled by magnates which had the power of telekinesis—a cursed ability which raised them into a concept of a deity.
Through a series of circumstances, Saki and the other children soon realizes that there is something wrong in their world. Over the past years, they soon discovered everything; a macabre, bloody past which brought humanity into an intriguing form of perfection. Eager to set forth to fight against the way of the New World, the five friends endanger their life in order to protect their family against those who are eager to bring about destruction.
The sci-fi story will be voiced by Risa Taneda as Saki Watanabe, Kanako Toujo as Satoru Asahina, Kana Hanazawa as Maria Akitsuki, Karuka Kudou as Mamoru Ito and Mai Toudou as Shun Aonuma. The original novel for this piece had worn the Science Fiction & Fantasy Writers in Japan's 29th Nihon SF Taisho Awardcin 2008, along with Mitsuo Iso's Dennou Coil. A stage event was held in Chiba's Anime Contents Expo on April 1.