Trailer for Original Anime Film Hal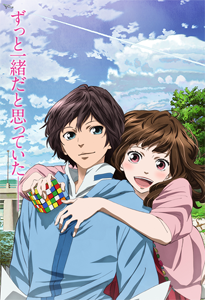 It's such a heartbreaking feeling to lose the person you love! All the grief and the emotions you feel due to the eternal absence of that person can be burdening. No wonder many people go through such hard times when a beloved passes away. It's difficult to understand what they are going through, how they are able to cope up from all the sadness. Well, in this next story, we're revealing to you a tearjerker of a series, but not so much, because all good things may come to an end, another may take its place in your heart.
Introducing the original anime film Hal, a near-future romance created for a one-drop series. The website for this project has revealed on Friday its full trailer, a dazzling main visual art, the main cast and crew, and of course, its theme song and its performer. Yoko Hikasa and Yoshimasa Hosoya has already been cast as its lead voice actors.
Hal follows the story of a girl named Kurumi, (played by Hikasa) who has lost the boy she liked, Haru (played by Hosoya) in a terrifying plane accident. For a young love, this seems to be depressing, until one little ray of hope brought the cheer back into her face again. A robot called Robo Hal (also pronounced as Haru) turns into her substitute for this deceased lad.
Io Sakisaka, creator of Strobe Edge and Ao Haru Ride, will be creating the original character designs. Guilty Crown, Tatami Galaxy episode director Ryuoutarou Makihara is debuting in his full series direction with this film. Wit Studio is creating the animation, and Izumi Kizara will be writing the screenplay. However, this will not be based on the pre-existing material.
Katsuhiko Kitada will be in charge of the animation and Asami Kiyokawa will serve as the visual art director. Michiru Oshima will score the music.
Hikasa performs the theme song of the movie, Owaranai Uta (Unending Poem) which can be heard in the full trailer. The film will open on June 8, 2013 and a manga adaptation is currently running in Sheisha's Bessatsu Margaret this spring.