Toradora Creator Debuts Another Manga Favorite into Anime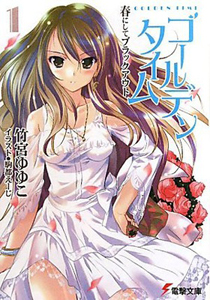 An event for the "Game no Dengeki Kanshasai 2013 & Dengeki Bunko: Haru no Saiten 2013" has announced that an anime adaptation for Toradora's Yuyuko Takemiya's Golden Time light novel series is now green lit. This event has also led to announcement of other light novel series who will be getting its own anime adaptation.
Yuyuko Takemiya (竹宮 ゆゆこ) is known for her light novel series involving romance and youth. Her works debuted in September 2004 with Watashitachi no Tamura-kun, appearing in the autumn 2004 issue of the magazine Dengeki HP Special (a publication which is a special edited version of Dengeki HP). Following the success of this launch, she began working on her famous series, Toradora, which was completed in April 2010 with 10 volumes and 3 spin-off books. Golden Time however, is Dengeki Bunko's 2000th published light novel.
Golden Time is another school romantic comedy which revolves around the life of Banri Tada, a college student who accidentally lost all of his memories before his high school graduation. The story follows his life and Koko Kaga, a girl who seems to be perfect in all aspects but hides many hidden regrets. Koko's boyfriend, Mitsuo Yanagisawa and other students in the college complete the cast.
Takemiya has launched the series in 2010, and the studio ASCII Media Works has released the 5th main volume on September 2012. The story has five main volumes and 2 spin-off volumes, selling 710,000 copies in print. Artist Eeji Komatsu has illustrated the novel volumes, while Umechazuke has serialized the manga adaptation in ASCII Media Work's Monthly Comic Dengeki Daioh magazine since 2011.
It must be known that Takemiya's Toradora series has also inspired an anime adaptation, which features high school romance, friendship and values. The Golden Time anime will debut this year.