Tonari no Kaibutsu-Kun PV Reveals Series Spoof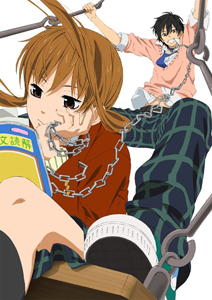 Set to debut this Fall season, Robico's romantic comedy Tonari no Kaibutsu-kun (Seating Beside a Monster) is starting to prepare for its premiere slate. The official website for the series had just began streaming its latest promotional video on Monday, to which the shoujo themed plot has been engulfed with an ironical funny spoof.
This anime project adapts Robiko's popular rom-com story about two high school students who are the opposite of one another, yet through various circumstances, falls in love. Shizuku Mizutani is a girl who has no other interest but keeping her grades at its highest. She focuses on her studies and has great plans for her future career. Sitting beside her however, is Haru Yoshida, a boy who seems to be happy-go-lucky. He has been absent for many days with one reason or another since the first day of school. By chance, Shizuku is sent out to deliver the class assignments to him, to which encounter Haru thinks that they have become friends.
Robico's light novel has been launched in 2008, where publishing giant Kodansha has published the 10th compiled book volume this August. The new series will be coming from the animation studio Brain Base, the same group who has released Durarara!!. Hiro Kaburaki of Kimi no Todoke anime series as the director, and Noboru Takagi as the series writer. The cast and character design are from the animator Tomohiro Kishi.
Haruka Tomatsu will play the role of Shizuku, while Tasuhisa Suzuku will take the role of Haru. Tonari no Kaibutsu-kun is slated to premiere this October 1, featuring theme songs created by Tomatsu and the female pop group 9nine.
For those who want to get a sneak peek of what this show is all about, the production has left an interesting goof on the premise, taking a spin on its shoujo story with a shounen blast. Watch the video below: