Tokyo ESP Manga Green Lit for Animation
Kadokawa Shoten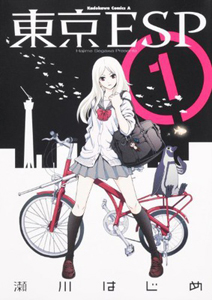 had just revealed on its website a new project: Hajime Segawa's Tokyo ESP manga is now under preparation for an anime adaptation. Segawa terms this work as an "afterschool psychic action," and has launched it in Kadokawa's Monthly Shounen Ace magazine back in 2010. This is shortly after he has ended The Enchained Spritual Beast Ga-Rei, another supernatural action series. Ga-Rei, which Segawa alternatively termed as the "afterschool spirit hunting action," inspired the Ga-Rei: Zero television anime series in 2008, in which Funimation has released in North America.
This is the second title from Segawa to be made as an anime. Tokyo ESP tells about the story of Rinka Urushiba, a fairly normal high school girl, who was poor. The only person she has is her father, to which her penniless state forces her to work as a waitress after high school. One ordinary day, she saw a penguin and some glowing fish swimming through the sky. She thought it was just hallucination. However, there was another witness—a boy with a scratched face. As she makes contact with a fish, she passed out. Things became different when she opened her eyes.
Rinka finds out she had developed the power to move through inanimate, solid objects. She also meets Kyotaro Azuma, who has the ability to teleport. The two of them uses their newfound powers to take on people who desire to use them for evil. However, there is a bigger scheme behind their enemies, an organization who aims to secure utopia with their strong ESP users.
Plans for Tokyo ESP have started while Ga-Rei is still going on. Segawa has been inspired from the Matrix series and superpowers. He has also wanted to go with a female lead as he did with his previous series. The company is publishing the 8th compiled book volume of the Tokyo ESP on Ma 25.