Toaru Majutsu no Index Movie Set to Premiere in 2013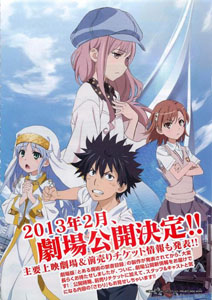 Kazumi Kamachi's Toaru Majutsu no Index (とある魔術の禁書目録, trans., "A Certain Magical Index"), is about to hit the movie screens come February 2013. As previously announced, a theatrical continuation of the hit animation has been slated in the next year's winter months. This movie marks the return of Hiroshi Nishikiro as the J.C Staff production director, with the script created by Macross F writer Hiroyuki Yoshino.
The story is originally plotted as a sorcery-themed journey of Kamijou Touma, a young student living within a highly advanced Academy City. Even though he was labeled as a level-0 esper, a magician with no powers, Touma possesses the Imagine Breaker which negates any form of power. He encounters Index, a girl who was trying to escape a magical organization named Necessarrious. Index is blessed with the talent of remembering any detail, possessing 103,000 magical books in her mind. This meeting is where magic and science joins hands together to face many enemies who plan to destroy this innovative town.
A Certain Magical Index has been published by ASCII Media Works and has been serialized into the Monthly Shounen Bunko since 2004. An anime adaptation, running in 24 episodes, has been aired locally within October 2008 and March 2009. The story proved to be a hit and a second season was created, airing from the similar schedule in October 2010 to April 2011.
Also known as a side story, A Certain Scientific Railgun, has also been serialized and animated. The manga was released in North America in 2011 and both anime titles have been acquired by the Funimation Entertainment.
Kazuma Kamachi introduces a new magic and science themed story in this 2013 movie, with novel illustrator Kiyotaka Haimura designing new characters in the said plot.