Time of Eve Creator Releases Trailer for New Film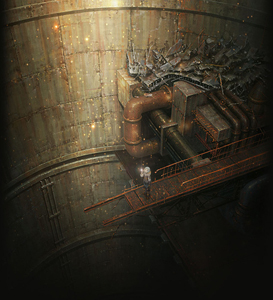 Yasuhiro Yoshiura, known for his hit titles Time of Eve and Pale Cocoon, is releasing yet another interestingly curious plot, Sakasama no Patema /サカサマのパテマ, Beginning of the Day. The film also goes by another name, Patema Inverted.
In this plot, Yoshiura brings his audience into an interesting new world apart from the modern living; a track back to a humble, modest village where everyone lives in peace and tranquility. This underground city is well surrounded by maze of tunnels; a labyrinth in which adventure seems to be unending, and where curiosity and intrigue lurks about in every corner.
In this place, people wear protective clothing; for even though living placidly, one cannot fail to think of the fear that comes along with the confined spaces and the queer tunnels. The story focuses on Patema, a young, vibrant girl—a princess in this village, whose heart soars further to more than what her eyes can see. She is well protected and nurtured, but she cannot help to think about exploring the tunnels, which she does thrillingly. Although frequently scolded for her actions, her curiosity cannot be held back.
Prevented to go into the "Danger Zone," the fearsome part of the tunnels, Patema goes against her counsel and walks in to find the danger for herself. However, what she finds out is more than what she should know, and through surprising circumstances, Patema faces a new world where the mystery about the tunnels starts to unravel.
Yoshiura, a well-known writer and director of various anime films, has gained acknowledgement for his past work along with his production company Studio Rika. Born in Hokkaido, he was raised in Fukuoka and graduated from the Kyushu University's Faculty of Design. It was last December 2011 that he released a statement regarding the upcoming film, Patema no Sakasama, and has released an intriguing trailer as a prologue to what the viewers will see in the animation.