The Hired Gun Soon to Be Anime Shorts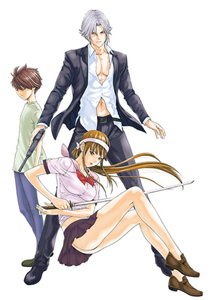 Masahide Ichijo & Chiku's four-panel manga starring the hit man Koroshiya-san will soon be debuting in its animated version. Futabasha's Manga Action magazine, in its 2013 17th issue, has announced the main cast for The Hired Gun. The action-packed title is actually a comedy story which trails after the life regarded as the "best hit man in Japan." See the cast below:
Takahiro Sakurai (who played Code Geass' Suzaku) as the lead character Koroshiya-san
Aki Kanada as Apprentice
Saki Fujita as Father's Rival Woman
Tory Ohkawa as Police Sergeant
Keiji Fuiwara as Gorou
The magazine has also disclosed that the series will go in an anime shorts format and will air on TV Saitama. Its official website has revealed that the show's theme song, "the end" will be performed by the visual kei rock band Mix Speaker's Inc.
Koroshiya-san is the best hit man in Japan and lives by a simple motto—"If I have an assignment, I will kill anything." However fierce this may look, his killing tasks have extended into something more soft—but nevertheless daunting. His assignments include doing summer vacation homework and even housekeeping. The show also includes the tagline "The hit man never fails to kill the target; he does not aim, but he never misses the laughter."
Masahide Ichijo & Chiku's four-panel manga has been launched in the Manga Action magazine in 2004. Futabasha has published the fourth volume in 2009; in this same year, the manga has inspired a drama CD.
Ai Ikegaya will be directing the anime shorts at the Flash animation studio OperaHouse. The company has already begun streaming a short teaser for its upcoming anime adaptation. The video features the main cast and the theme song. Get a glimpse of what's happening in Koroshiya-san's action (and fun) packed life by watching the video below: