The Amazing Spider Man Hops From 3D Movie Theaters Into Real Life In Chibi Form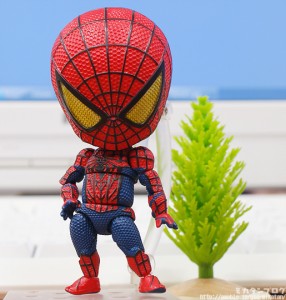 "My Spider Sense is tingling!"
Spider Man fans this is for you! The Good Smile Company, who provides the world with the most adorable Nendoroids now gives us the Amazing Spider Man!
Peter Parker, in his ultra detailed Spider Man costume, has been super deformed and now stands at a Nendoroid size. The Spider Man Nendoroid has been specially made: it was first sculpted using the standard material used for making Nendoroids. The spiderweb details of the costume were then applied using 3D data. This effect recreates the feel of the real deal Spider Man costume.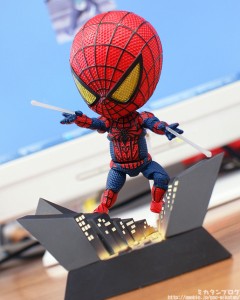 Stan Lee's famous webcrawler first appeared in the comic book Amazing Fantasy #15 on August 1962 and has gained immense popularity since then, appearing in more comic books, cartoons and video games.
In 2002, Sony released the first of three Spider Man movies starring Tobey Maguire. The second and third installment of the Spider Man movies directed by Sam Raimi were released in 2004 and 2007 respectively. Instead of having a fourth Spider Man movie, a reboot of the trilogy was made instead. The Amazing Spider Man now stars Andrew Garfield as the new Spider Man and this change is often the topic of Spider Man or Avengers jokes in gag sites. Instead of Mary Jane Watson, Peter Parker's love interest in the Amazing Spider Man is Gwen Stacy and is portrayed by actress Emma Stone.
The Spider Man Nendoroid is fully poseable and comes with a diorama pedestal of the night time streets of New York. Fans simply cannot resist the urge to put him on the stand and make him pose while he shoots webs from his hands.
The Amazing Spider Man Nendoroid will be available for pre-order next week.