Free Comic Book Day 2013 Celebrates 11 Years Of Free Comics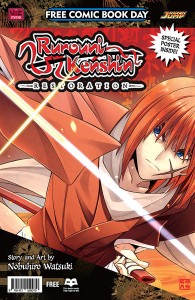 Free Comic Book Day is a day where all comic book fans unite and rejoice for participating comic book shops and book stores hand out free comic books. Free Comic Book Day is already on its 11th year and things just got better and better. Although Free Comic Book Day is predominantly celebrated in the United States, its fame also reached out around the world.
Viz Media participated in this annual event by giving out free previews of Dragon Ball, Rurouni Kenshin: Restoration and It's An Ugly Doll comics. All comic books bear a Free Comic Book Day stamp on the topmost part of the cover. The same can also be said for Dark Horse Comics' Avatar: The Last Air Bender and Mass Effect/KillJoys/R.I.P.D. free comic book day editions.
Free Comic Book Day was first held in May 4, 2002 and since then, has been celebrated every first Saturday of May in order to gain new readers and is often tied with the latest super hero movie. 2013's Free Comic Book Day is tied to the Iron Man 3.
Free Comic Book Day was also celebrated in the Philippines with well-known bookstore chains, National Book Store and Fully Booked in on the celebration. National Bookstore has collaborated with Neutral Grounds and Castle Geek and together, they formed a Free Comic Book Day celebration held at the 4th floor of National Book Store Quezon Avenue branch. National Book Store gave out three free comic books and also hosted a number of activities including collectible displays and an iPad 2 raffle.
How was your Free Comic Book Day?