Tenri Anime For Kami Nomi Zo Shiru Sekai Release In October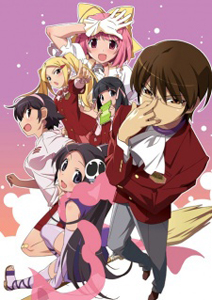 Coming this October, a bundle video anime is set for the 19th manga volume of the series Kami Nomi Zo Shiru Sekai. As stated in the wraparound jacket band of the Tamiki Wakaki's 17th issue of that The World God Only Knows / Kami Nomi Zo Shiru Sekai anime is currently under production this month. The new project takes a highlight on the series character Tenri. This animation will be included in the limited edition of the 19th manga volume of the series and will be released on October 18.
The series has already been released as a television anime adaptation, inspiring two seasons and a prologue version of an original anime DVD and OVA. Sentai Filmworks has licensed both of the seasons for North American viewers to enjoy, and Crunchyroll streamed the seasons into its worldwide audience as it was being released in Japan.
Kami Nomi Zo Shiru Sekai, also known as KamiNomi, is a manga series by Wakaki Tamiki and has been serialized in the Weekly Shounen Sunday Magazine since April 2008. The manga includes individual chapters included in the fourteen tankoubon volumes as of September 2011. The story highlights the life of Keima Katsuragi, an avid bishoujo gamer who is currently in his second year high school.
In the Internet, Keima is known as the "Otoshi-gami," or the god of the conquests. His skills enabled him to conquer any girl in any 2D game. Unknown to his fans, he is actually just a nerd in glasses, known in his class as the "Otamegane." He is considered as a boring geek even though he is indeed intelligent.
Keima receives a mysterious e-mail, offering him to deal and conquer girls. Thinking it was just an ordinary invitation to a new game, he accepts it. However, a demon named Elsie appears; it was she who sent him the e-mail and is asking him for help in capturing runaway spirits. These mischievous spirits hide themselves within the hearts of girls, and the only way they could capture them is to conquer these girls, making them fall in love with him.
See more of Keima and Elsie's adventures, as regularly updated here in Asgard!