Teasers Streamed for Live Action Himitsu no Akko-Chan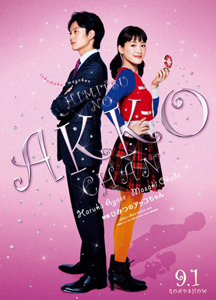 A trailer teaser for the live action adaptation Himitsu no Akko-chan (ひみつのアッコちゃん) was streamed on March 16.
The trailer features the 5th grader Akko, receiving her magical compact from a powerful spirit of the mirror. Using this compact, Akko is able to cast a spell upon herself, transforming into anything, or anyone, that she desires. She may only use this to help others, as this was given to her because of the pureness of her heart.
In this movie adaptation, Akko turns into a 22 year old lady. Popular actress Haruka Ayase takes the role of the grown-up Akko and transforms into various characters, such as an airline stewardess, a police officer, an office girl, a figure skater and a motorcycle racer. She meets Masaki Okada, who is her fated love, and the story trails after their encounters.
The film is directed by Yashhiro Kawamura and is set to be screened on September 1. This is the first live action adaptation of Himitsu no Akko Chan, which was originally made by Fujio Akatsuka. Three anime series shown in the years 1969, 1988 and 1998 were all taken from this plot, along two anime films and a 1987 movie adaptation. The manga, originally published from the magazine Ribon from 1962 to 1965, was among the first magical girl mangas which inspired other shoujo based stories.
Atsuko, fondly called Akko-chan, is a vibrant and bubbly elementary school girl who has a special interest for mirrors. Her favorite item is the one given to her by her parents, which is a mirror she dearly loved. It was unfortunately broken due to a mishap, and Akko-chan, instead of throwing it away, decided to bury it in the yard. The Mirror Spirit was touched by that action, and contacts the child through a dream to treat the mirror with kindness. As a return for her diligence, she was given a gift of a magical mirror which gives her transforming powers.