Teasers for Live Action Adaptation of Mirai Nikki Released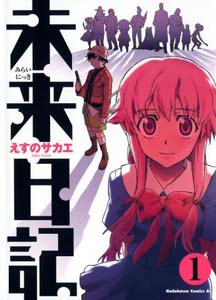 Japan's local network Fuji TV has recently streamed a one minute teaser video for their upcoming live action adaptation of Sakae Eisuno's Mirai Nikki / Future Diary manga.
In the plot taken for the adaptation, twelve youth fatedly comes into the possession of their own Future Diaries, where written is what to become of their future. These twelve are then forced to play a game of survival, aiming to kill each other off during the whole process. As a rule, one man is to be left standing and will be given the title of the Master of Time.
The cast includes Masaki Okada, who starred in popular series Hana Kimi, as the role of Arata Hoshino. Hoshino is an original character and did not appear in the manga. Other cast includes Ayami Gouriki as Yuno Furusaki and Kanata Hongou as Rui Miriguchi. Yuusuke Watanabe of Gantz, Bloody Monday and 20th Century Boys will write the script for the series, and singer-actress Kou Shibasaki will contribute the title song "Another World" as the series' main theme.
Interestingly, this new live action adaptation is to run in Fuji TV Network's Saturday 11:00 PM timeslot, the first in two years. The previous live action series include the titles Life, which achieved a rating of 17.4%, and SP. Okada, who is the lead character of the Future Diary, earned his first role in a Saturday Live Action series, Otomen, in the same network three years ago.
Mirai Niki / Future Diary original manga has sold about 4 million copies and has been the subject of both anime and video game projects. Comic press Tokyopop has published 10 of the manga's original 12 series before it shuts down its publishing operations in North America last May. Anime studio Funimation and video sharing site Nico Nico Douga will be streaming the animation series as it is released in Japan.
Mirai Nikki will premiere on April 21.