Teaser for Robotics;Notes TV Anime Streamed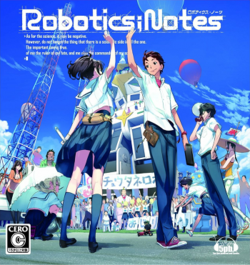 The official website for I.G's newest project Robotics;Notes television anime just opened this Saturday with an animated promotional teasers as well as the information about the staff and the cast. The anime, which is the third science adventure game produced by the same studio who created Steins;Gate and Chaos;HEAd, have slated this new project to hit the local TV this October. Shikura Chiyomaru, head of the game developer 5pb / MAGES, had just confirmed that the anime is going to run for two quarters of a year.
The science adventure game installment is staged on an alternate world in the future, where the popular young hangout Shibuya District has been destroyed in the year 2009. This calamity was followed by the destruction of the Kaikan Radio building inTokyo's Akihabara District the next year. whereas the world is immersed in realistic but augmented reality technology by the year 2019, many are still trying to live in peace.
Take for example two high school students who aim to relive this technological journey. When a high school robot club is threatened to be shut down because of its reduced number of members (say, two!) one girl, who programs fighting game, inspires her teammate to revive the robot tied to the building of their school in order to rebuild their team.
Robotics;Notes cast includes Ryohei Kimura as Kaito Yashio, Yoshino Nanjou as Akiho Senomiya, Rie Kugimiya as Airi, Kaori Nazuka as Frau Koujiro, Yoshimasa Hosoya as Subaru Hidaka, and Sora Tokui as Junna Daitoku. Sengoku Basara 2's Kazuya Nomura will be directing the anime productions at I.G. and Jukki Hanada will take charge of the scripts. Chikashi Kuboto is adapting the original game character designs by Tomonori Fukuda for the anime. Takeshi Abo and Yuuki Hayashi will handle the music score.
The new series will begin in Fuji TV's late night schedule this October. For the meantime, watch the teaser here: