Teaser for Manga-based Live Action Series Kyou, Koi wo Hajimemasu Released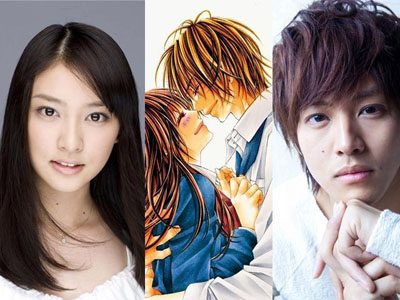 Japanese talent agency TOP COAT has started streaming the first teaser trailer for the upcoming drama series Kyou, Koi who Hajimemasu.
This title was based on Kanan Miyama's manga of the same title, and stars singer and moderl Emi Takei (Rurouni Kenshin, Ai to Makoto) and Tori Matsuzaka (Samurai sentai Shinkenger, We Can't Change the World). Takei will be playing Tsubaki Hibino, an old fashioned girl who looks like as if she came from Showa Era and Masuzaka will play Kyouta, a modern heartthrob.
The original plot trails after Tsubaki, a kind young girl who has never indulged in romance or fashion. However, she loves making others feel beautiful, as she gives other people charming hair up-dos. Her old fashioned taste makes her a butt of jokes as she is looked down for her poor style. On her first day of high school, she incidentally sits beside a delinquent yet handsome Kyouta Tsubaki, who finds it unfortunate to share the same name with her. Ultimately, she becomes a target for his fond teasing. When she can take it no longer, Tsubaki pulls out her scissors and cuts Kyouta's long mane.
A love-hate relationship soon developed between the two, where their differences become apparent, but they could not hide the fact that they have started to like each other. Kyouta and Tsubaki, who has never experienced romance, begin a new kind of love as they face the challenges which tests their relationship.
Kanan Minami, maker of the manga, has starts serializing the story under the Sho-Comi magazine. The shoujo series began in 2008 and ended its publication in November 2011. The manga has 14 compiled book volumes, eight million copies are sold. It has been released under the Flower Comic label locally, and has inspired two animated DVDs.
Catch a glimpse of the live action with the video below: