Strike Witches' Takamura Directs New Animation Project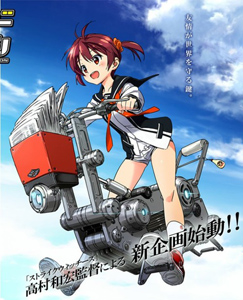 Strike Witches' Kazuhiro Takamura is on a roll this 2012, as he dives into not just one, but two big anime projects. As we all know, the film animation adaptation for Humikane Shimada's original illustration Strike Witches has been released in March 2012. However, this doesn't stop Takamura in picking another shoujo-based action packed adventure, as he enters another realm of cute girls fighting to save the world in a new project called Vividred Operation.
The official website for this new project has stated that this upcoming original new animation project will be made into reality by collaboration between known brands in publishing and animation. Aniplex and ASCII Media Works' Dengeki G Magazine will join forces in this brand new series, and has began their first promotional video streaming on Saturday.
Vividred Operation tells about the story of a girl science-fiction series, focusing on a 14-year old heroine who lives in an impoverished life. She dwells with her little sister and grandfather and tries various means in order to survive the day. However, when danger comes and threatening their lives, she and other girls at the same age come together to fight and protect all that is precious to them.
Hiroyuki Yoshino will be managing the scripts, while Kazuhiro Takamura will handle the direction and character designs. A-1 Pictures will be making the animation, and Hidari, as well as Supercell Member Redjuice will contribute to the concept designs. The cast includes:
Ayane Sakura as Akane Isshiki
Rie Murakawa as Aoi Futaba
Yuka Ōtsubo as Wakaba Saegusa
Aya Uchida as Himawari Shinomiya
Maaya Uchida as Rei Kuroki
The official website has also included this anime to be a part of a Bushiroad card game. The PR card will be bundled on the Dengeki G magazine on October 30.
The animation series is set to launch in January 2013, but you can take a sneak peek at the video below: