Sylveon, I Choose You! Welcome Pokemon X And Y's Newest Eevee Evolution!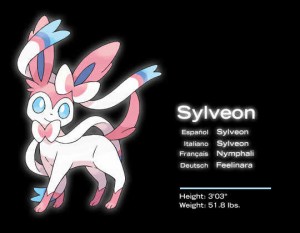 Aside from rolly polly Pikachu (ピカチュウ), another famous Pokemon face is Eevee (イーブイ) and all its various evolutions. While the internet offers tons of Eevee evolution fan art, there are only seven official Nintendo entries and entry number eight comes in the form of a pink-blue-and-white Eevee evolution called Sylveon (ニンフィア).
Sylveon is introduced in the latest Pokemon series, Pokemon X (ポケットモンスターX) and Pokemon Y (ポケットモンスターY). Swathed in mystery, this Generation VI Eevee evolution's only data given so far are the height and weight measurements. Standing at 3'03" and weighing at 51.8lbs, Sylveon is the lightest of the Eevee evolutions.
Hardcore Pokemon Fans make it a point to collect all evolutions of Eevee, either for completing their Pokedex, having a team of powerful Eevee evolutions for Pokemon League or both. Eevee was first introduced in Generation I with its first three evolutions, namely fire-type Flareon (ブースター), electric-type Jolteon (サンダース) and water-type Vaporeon (シャワーズ). Generation II gave way for two more Eevee evolutions, psychic-type Espeon (エーフィ) and dark-type Embreon (ブラッキー). Generation IV added two more Eevee entries, namely grass-type Leafeon (リーフィア) and ice-type Glaceon (グレイシア).
No information has been given yet regarding on Sylveon can be obtained through evolution but Pokemon fans will have to get the game and stay tuned in order to find out how to add Sylveon to their Dex. Check out the video below for your dose of Sylveon sneak-peak.