Supreme Thunder! Sailor Jupiter Joins In The Sailor Moon S.H Figuarts Team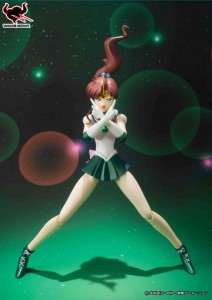 Agent of Love and Courage, the pretty sailor suited soldier Sailor Jupiter! In the name of Jupiter, I will punish you!
Have you been religiously tailing the S.H. Sailor Moon Figuarts for quite some time already? How many Sailor Soldiers (セーラー戦士) are already in your collection? If you're missing two out of five of the Inner Senshi (内部太陽系戦士), worry no more! Sailor Jupiter (セーラージュピター) is coming right at you to join the S.H. Figuarts versions of Sailor Moon (セーラームーン), Sailor Mercury (セーラーマーキュリー) and Sailor Mars (セーラーマーズ)!
Just like the previous, S.H. Figuarts senshi, the S.H Figuarts Sailor Jupiter is fully poseable and comes with three interchangeable facial expressions. One of her accessories includes her tiara with an antenna as well as a couple of hand gestures including fists.
Makoto Kino (木野 まこと) is not your not-so-ordinary school girl. This tough cookie provides the muscle for the Inner Senshi as Sailor Jupiter who is known for her fiery electric-based attacks. She also cooks up a delicious storm for the senshi as she is known for her amazing cooking skills.
Sailor Jupiter will be released on July 2014 with a price of 4,200 JPY (41.09 USD). Head on down to the official S.H. Figuarts page for more photos!