Cast and Details for Super Seisyun Brothers Revealed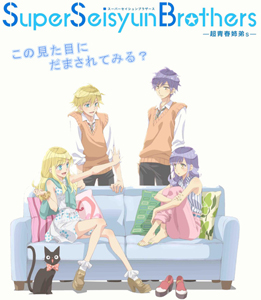 On Monday, the staff, cast, key image and other details for the upcoming television anime adaptation of Super Seisyun Brothers was revealed. The manga was created by Shin Shinmoto, and tells the story of a slice of life comedy between siblings. A beautifully similar pair of them, in fact!
In the manga, there are two sets of strange siblings; each one with a narcissist older sister and a fun loving younger brother. The main siblings are the Shinmotos (taken from the creator's name) who then make friends with the Saitos.
Since both of these siblings are so similar, they are friends with each other; just like the birds with the same feathers flock together! Their lives are filled with comedy and mishaps, with a lot of otaku humor in a setting inspired from real life.
While each of the siblings thought that they could only have each other at first, they soon learn to open up to other people and accept friendship and even love. The comedy based story is perfect for the teens and the young at heart who loved their brothers and sister very well.
Masahiro Takata will be directing the series at AIC PLUS+. Tomoko Konparu will be in charge of the series' composition, and Noriko Morishima is designing the characters. The set of siblings, having the same features but different hair color, are as follows:
Chiko Shinmoto: Nozomi Yamamoto
Chika Shinmoto: Ryota Oosaka
Mako Saito: Ai Kayano
Mao Saito: Kaito Ishikawa
The production staff includes the original manga creator Shin Shinmoto, and in addition to the main staff listed above is costume designer Sao Tamado, art director Yoshihiro Nakamura, color coordinator Chieko Hibi, composite director Kosuke Tanaka, sound director Takatoshi Hamano and editor Shota Uyama. The series is going to debut soon enough in Japan! Super Seisyun Brothers will be hitting the small screen on September 13.