Super Pochaco Comes In A Figure With Beer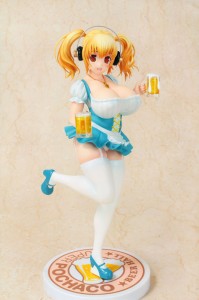 Oktoberfest is one of the world's most awaited events held in Munich, Germany and of course, what is Oktoberfest without beer and sexy beer girls? With Oktoberfest certainly months away, you can still celebrate early on in the year with this Super Pochacho (すーぱーぽちゃ子) figure. This adorable chubby girl dresses up in a skimpy blue dirndl that emphasizes her too generous bosom with a mug of beer on either hand.
If the name Super Pochaco sounds oddly familiar, Super Pochaco has something to do with the Super Sonico (すーぱーそに子). The two are friends with Super Pochaco a bigger (and perhaps even better?) version of Sonico. With a whopping measurement of B-107, W-79, H-94, Super Pochaco comes in a twin-tailed blonde-do with her own signature headphones just like Sonico. Her honey-colored eyes, topped off with a very innocent facial expression, complete her moe appearance. Just in case you've missed it, Super Pochaco has made an appearance in the SoniAni: Super Sonico the Animation (そにアニ).
Want to get her? This Super Pochaco beer girl figure is already up for pre-order and will be out in July 2014 for only 13,800 JPY (135.45 USD). AmiAmi has a special offer in which the figure goes with a special rubber coaster for your drink so strike while the iron's still hot!