Strut Your Stuff With 2PMWorks Kuroshitsuji-Inspired Shoes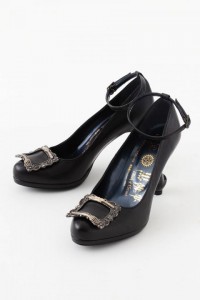 Want to put a bit of anime in your style? Fan of Kuroshitsuji (黒執事)? If that's a yes and a yes, then thank your lucky stars because 2PMWorks has got you covered with their Kuroshitsuji inspired set of shoes! There are three designs to choose from as inspired by Ciel Phantomhive (シエル・ファントムハイヴ), Sebastian Michaelis (セバスチャン・ミカエリス) and Grell Sutcliff (グレル-サトクリフ). All three shoes have different price ranges so Asgard Anime will give you three different links to these awesome shoes.
The first model is based from Sebastian Michaelis (shown left). This simple pair of black shoes has three things that make Sebastian stand out: the cat heels that show his love for cats, a knife and fork set and a ruby red stone hidden under the shoe's sole. All the designs have an antique finish which gives this pair an elegant air to it. The Sebastian Michaelis shoes is priced at 17,800 JPY (175.49 USD) plus an additional 1,424 JPY (14.05 USD) tax. Get it right here.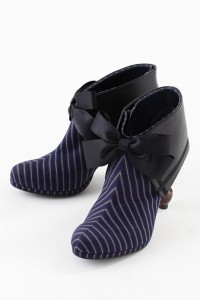 Want some stripes? Then the Ciel Phantomhive shoes (shown right) might grab your attention. Done in his signature black and purple colors, the Ciel Phantomhive shoes comes in the shape of a bootie with a black butterfly tie to complete Ciel's costume. To make this pair special, the "collar" part can be removed to give it a different look. The Ciel Phantomhive booties go for only 19,800 JPY (195.30 USD) with an additional 1,584 JPY (15.63 USD) tax. Ready to place an order? Then click on this link here.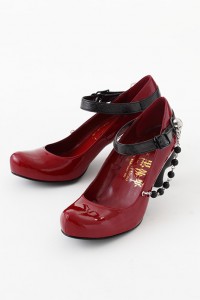 Last but not the least is the Grell Sutcliff which is a red pair of pumps if you want something bright instead of dark colored shoes. The Grell Sutcliff is perfect for girls that have a taste for Goth as this pair is designed with a removable chain and is adorned with skulls, including the heels! The Grell Sutcliff pumps go for only 19,224 JPY (189.63 USD), tax included. Grab this pair here!