Staff and Series Info Disclosed For Shingeki no Kyojin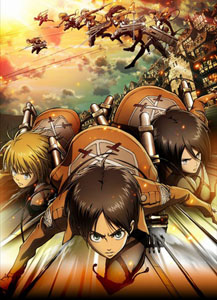 Hajime Isayama's Shingeki no Kyojin (Attack on Titans) is slated for its own anime series. The official website for the television anime project has just revealed cast members and staff on Friday. Along with the original characters for the series, they have added Yoshimasa Hosoya as Reiner Braun, Tomoshisa Hashizume as Bertolt Hoover, Saki Fujita as Ymir and Keiji Fujiwara as Hannes. A new key visual image is also showcased on the website.
Tetsuro Araki will direct the new series, with head writer Yasuko Kobayashi, character designer Kyoji Asano, and the project will be done at Wit Studio in cooperation with Production IG. Hiroyuki Sawano will compose the music, while Sound Horizon is contributing to the opening theme under the name Linked Horizon. Youko Hikasa will contribute the ending theme.
The lead cast stars are Yuuki Kaji as Eren, Yui Ishikawa as Misaka and Marina Inoue as Armin. The manga-inspired anime is a story which depicts the struggle between humans and the giants, who now reigns over the world. These giants are called Titans, which are large creatures that range from 3-15 meters tall. This race seems to have no other objective than to wipe out humans, killing and consuming them, which they do naturally by instinct. The Titans are not interested in attacking other animals, and they survive on sunlight without any need to eat.
In Shingeki no Kyojin, Titans have hard skin and are able to regenerate; they can only be killed by a deep wound on the base of their neck. With that discovery, humans have developed the 3D Maneuver Gear, which allows them to navigate speedily in a 3D space to access their enemies' weak point.
The protagonist, Eren, is a violent and impulsive boy who desires to extinguish all the Titans and to wander in the world. He has a strange ability to summon and control the body of a 15 meter class titan, which he believes, is the result of various injections given to him by his father. During this form, humans can rest in the weak point of titans, giving them a connection.
The series will premiere on April 6.