Space Battleship Yamato Gets Reinvented with 2199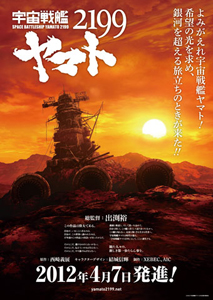 Classic sci-fi animation Space Battleship Yamato (宇宙戦艦ヤマト) is set to have a remake movie to be released in Japanese theaters on April 7, 2012. Its original series was initially made in 1974, where it features a powerful spacecraft journeys around the universe, encountering cosmos-related battles. The series have been widely distributed internationally, and has been dubbed in various languages such as English, Portuguese and Italian.
The movie is produced by the anime studios XEBEC and AIC respectively. Yutaka Izubichu heads the whole team, casting some of the best character designers in the anime scene. Nobuteru Yuki, who has created characters for Escaflowne and Record of Lodoss War, will be making the illustrations for the animated leads. Junichiro Tamamori and Makoto Kobayashi teams up for the mecha and concept designs. The opening sequence is created by no less than the renowned anime creator Hideaki Anno.
Space Battleship Yamato was originally conceptualized in 1973 by producer Yoshinobu Nishizaki. Its first season begain airing in October 6 1974, with the plot staged in the year 2199. An alien race called Gamilas has released batches of nuclear meteor bombs upon the earth, causing humanity to escape into underground cities. However, their enemies soon pounced upon them, and their last hope is to fight back.
Creating a huge spaceship inside the ruins of an old battleship called Yamato, they equip it with space warp to which they 114 crew members departs into space to take off the radiation-enhancing device that damages the earth's surface within one year of deadline. Space Battleship Yamato contains different arcs of travels, to which the ship encounters different enemies and different circumstance throughout the space.
A new 225-second promotional clip for the movie has been released, as a prologue to the television series and the film. To understand the movie's timeline, check out the video below: