Sleepy Snorlax Blocking Your Path? Sleep On it!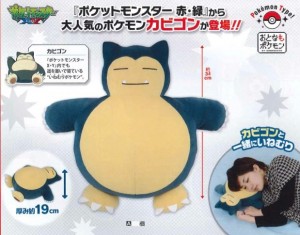 Aside from Pikachu (ピカチュウ), Snorlax (カビゴン) is perhaps one of the most widely known faces of Pokemon (ポケットモンスター). You may recall your early Pokemon Red and Green/Blue (ポケットモンスター 赤・緑) and even Pokemon Yellow (ポケットモンスターピカチュウ) days when this massive 2.1 m tall Pokemon that boasts a 460.0 kg weight would get in the way as it decided to use Route 12 and Route 16 as its napping locations. Japanese toy company, Banpresto (株式会社バンプレスト), is giving you the chance to snag this cuddly Pokemon in cushion form with the Snorlax cushion!
The Snorlax cushion has been minimized from its original, gigantic size so it's easier for you to carry it around. Snorlax the cushion stands at 19 cm tall and 34 cm long and you won't have to break your back carrying him from one room to another without a Pokeball as it weighs slightly over 2 pounds. True to its original art, the Snorlax cushion bears the signature dark blue-green and cream hue with dark brown points on the soles of its feet just like the real deal Snorlax. Not to mention it has those eyes that are perpetually closed in a line.
The Snorlax cushion is priced at 39.99 and is already available for pre-orders so head on down to Toys Logic and get your Snorlax today! The fluffy Snorlax cushion will be released on the later half of June 2014. If you can't beat it, sleep on it.