Silver Spoon Commemorative Stamps Comes With Silver Spoon. Literally.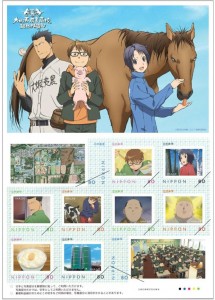 On December 2, 2013, the Japan Post Office Hokkaido branch has released limited edition special sheets of Silver Spoon (銀の匙) stamps. Hokkaido plays a special role in the series, seeing as it is the birthplace of Silver Spoon creator Hiromu Arakawa (荒川 弘) as well as the setting of the agriculture-themed, manga-turned-anime series.
The Silver Spoon stamp sheet contains ten (10) 80 JPY stamps of different designs and includes a spoon colored in silver. The stamp set is priced at an easy-on-the-budget 1,800 JPY (17.49 USD) so it's a good set to kick start an anime collection! Silver Spoon began as a manga in May of 2011, following the life of the young Yugo Hachiken (八軒 勇吾), who decided to enroll in Oezo Agricultural High School (大蝦夷農業高等学校) after failing to pass in entrance high school examinations with the idea that an easier course will give him more time to prepare for college but his daily experience at his new high school proves him wrong. The manga has spawned an anime series produced by A-1 Pictures (株式会社エー・ワン・ピクチャーズ) with the first season released on July 2013 until September of the same year with a total of 11 episodes. The second season is scheduled for release on January of 2014.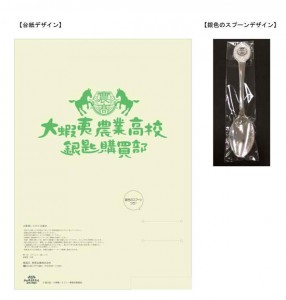 If you're a fan of Silver Spoon, don't forget to add these to your collection! These are also great if you're starting out as, or are already a steady philatelist. Get your set now via the official Japan Post Office website.