Shiro's Mountain Climbing Manga Goes Anime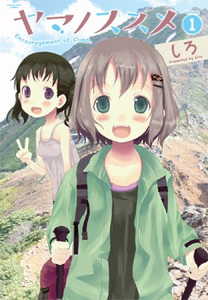 It has been recently revealed that Shiro's manga Yama no Susume will be prepped up for an anime adaptation by the studio 8-Bit come this 2013. The series, which has been running on Earth Star Entertainment's publication Comic Earth Star Magazine, started in September 2011. The company has already published a first serialized volume of the title in June 2012. The anime adaptation project was announced in the first volume release.
Yama no Susume, translated as Encouragement of the Climb, tells a story of two childhood friends Ao and Hinata, who are quite the opposite of one another. Aoi is a home-buddy and loves staying inside; she suffers acrophobia—a great fear of heights. Hinata on the other hand, loves adventure. She likes mountains in particular, and always imagines the experience of traveling the ruddy landscape with her pal.
Even though it is something she least liked, Aoi was encouraged by Hinata to take another adventure with her at the mountain, where they could finally see the morning sun peeping through the high clouds at the peak. The thought of that experience when they were young gave them the resolution to carry forth this plan.
The October issue of the Comic Earth Star publication has revealed the main characters of the series' anime, which includes Yuka Iguchi as Aoi, Kana Asumi as Hinata, and Yui Ogura as Kokona. Alongside this, the Comic Earth Star magazine has also included a fourth member—Kaede, which will be part of the main cast. The voice actor for this character will be announced soon, as the magazine suggests.
Yama no Susume will be part of JManga. JManga, on the other hand, will be adding Yama no Susume in its manga print along with two other titles, including Fumiyo Kono's Pippira Note. Readers can now subscribe in advance in their website.